Alhassan Yusuf will be one of several signings expected to have an immediate impact at ambitious Belgian club Royal Antwerp, according to a special report from Voetbalnieuws.be
With the exception of one strange transfer, Royal Antwerp FC launched a major transfer offensive in the current summer transfer window.
Jelle Bataille (KV Oostende), Björn Engels (Aston Villa), Michael Frey (Fenerbahçe) and Michel-Ange Balikwisha (Standard) are all players who can make a difference while the expected sporting added value from Dinis Almeida (Lokomotiv Plovdiv) throws rather big questions.
But the transfer offensive of the highly ambitious Antwerp FC is not over yet.
Antwerp FC have caught up again with Alhassan Yusuf, a 20-year-old central midfielder for IFK Gothenburg.
The Antwerp team had been looking for a replacement for the recently deceased strong man Martin Hongla (Hellas Verona / Italy) and found him in Sweden.
Yusuf played primarily as a dynamic midfielder in Gothenburg and the talented Nigerian can also play as number six.
ANDERLECHT AND FC BARCELONA
In the summer of 2019, the then 18-year-old Alhassan Yusuf was already at the top of RSC Anderlecht's wish list. Two years late, the talented midfielder will still play in the Jupiler Pro League, but now at Antwerp FC.
In 2019, Yusuf at Anderlecht was in equilibrium with Brecht Dejaegere, who was forced to leave AA Gent at the time because he could not convince Jess Thorup. In the end, both Yusuf and Dejaegere didn't move to Lotto Park.
RSC Anderlecht was certainly not the only club that showed serious interest in Alhassan Yusuf in summer 2019.
Various national and international media reported on the interest from Sheffield United, Wolverhampton Wanderers, FC Copenhagen and Feyenoord, among others.
A while ago, when Yusuf was a teenager, the names Ajax and FC Barcelona were even mentioned. So it has to be that the Nigerian has a lot to offer.
Alhassan Yusuf finally stayed on board at IFK Göteborg, where he was voted Sweden's Young Player of the Year in 2019 – after less than two years at the highest football level. He was selected in that order before Benjamin Nygren (KRC Genk, ex-IFK Göteborg) and Odilon Kossounou (Club Brugge, ex-Hammarby).
In the meantime, Yusuf has already played 77 competitive games for the Swedish top club and this experience ensured that the Nigerian was able to develop further at lightning speed.
THE NEW PAGE
"He's a ball winner and also a genius," praised Olle Sultan, Headscout at IFK Gothenburg, and Alhassan Yusuf in the Swedish press.
"He still has a few things to learn, but he can get really good. His development is impressive and I have always believed in him. He has learned to be less naive. "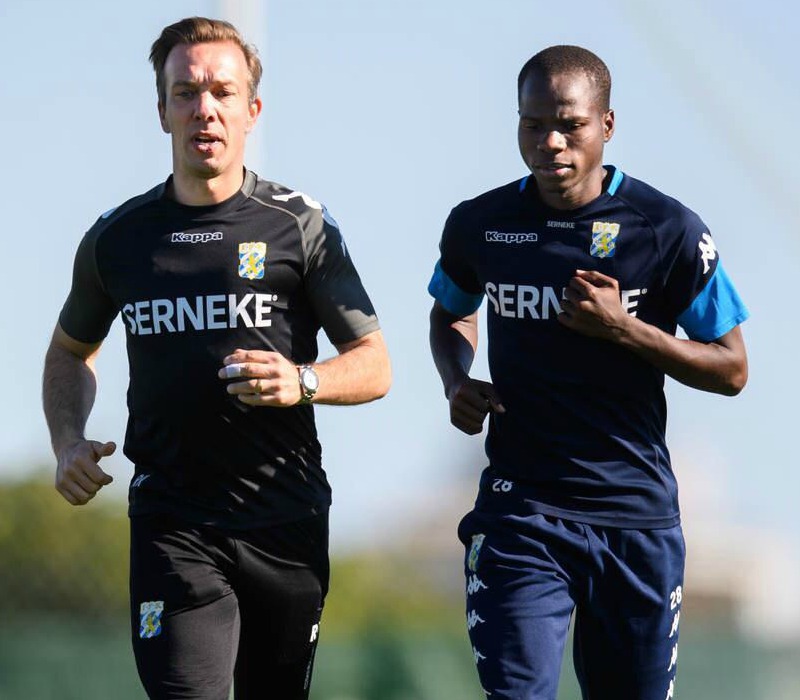 So it had been clear for some time that Yusuf was ready to move on to a more prestigious football competition.
For a long time it looked like the next step in Alhassan Yusuf's career would be in England. He has drawn the attention of Sheffield United and Wolverhampton Wanderers in the past, but Yusuf has also been on the Brentford and Leicester City radar for the past few weeks.
The Nigerian was also referred to by various media as "the new Ngolo Kanté", of course with a slight exaggeration.
Yusuf also stated in the Swedish press that he dreams of playing in the Premier League one day.
PLACES BECOME EXPENSIVE
At the age of 20 it is of course very difficult, if not impossible, to gain a foothold in the intense and demanding Premier League. That's why Alhassan Yusuf is initially taking a meaningful intermediate step at Antwerp FC, where he can play even more himself to interest the clubs from the Premier League.
To force his departure from IFK Göteborg, Yusuf even changed agents. He left the well-known players' agent Patrick Mörk and let the Stellar Group look after his interests, which not by chance has a large clientele in the Premier League and thus good connections to the clubs there.
It is now up to Alhassan Yusuf to effectively implement all the good things that are written and said about him at Antwerp FC.
Depending on the tactical nuances and emphases of the new coach Brian Priske, the Nigerian has to compete with Birger Verstraete, Frank Boya, Faris Haroun, Alexis De Sart and Pieter Gerkens.
The signing of Yusuf will definitely increase the competition in the central midfield of Antwerp and maybe even lift him to a higher level.
Adapted from Voetbalniuews.be
Source link